Important: Click & Collect at Alert Level 3
We strive to offer you convenient, efficient and hassle-free choices for collection of your furniture. Please all our customers must follow the Government's restrictions and our COVID-19 safe trading guidelines during your collection.
Our website is open 7 days and please feel free to place your order here. If you intend to pick up your order, please select the 'Pickup' option in the shipping method step. Pay your order, then let's follow these steps:
Step 1: You will be notified when your order is ready to be picked up, by text message or email. And you will be asked about your prefered time window (10AM to 12:30PM, 1:30PM to 4PM)
Step 2: In that time window, drive to our warehouse with your invoice and a valid ID in your vehicle. Please park your vehicle on our customer car park.  
Step 3: To present your invoice and your ID to our receptionist, then please back to your car and wait for our notice to move your vehicle to the loading zone.
Step 4: Your order will then be brought and placed on a designated area for you to pick-up.
Step 5: Please check your orders, i.e. the total cartoons and product package
Step 6: Please write your signature on the dispatch form before loading your goods into your vehicle. Once you've collected it, we will wipe down the table and pen.
Note:
1) We'll maintain a 2-Metre distance at all times to ensure maximum safety, and provide hand sanitizer for customers in reception.
2) You must supply your own appropriate transport for any pick-up service. Ifurniture is unable to supply any strapping, rope, or protective coverings for transporting of Pick-up service.
3) Please inspect your furniture carefully prior to pick-up.  We cannot be held responsible for damage caused after the furniture leaves our premises.
4) Both Carbine and Monahan warehouses are open on Friday to Wednesday (Closed on Thursday and Public Holidays). 10AM to 12:30PM  1PM to 4PM. 
For small flat pack items like cloth rack, shipping cost is from $5 via normal courier.
Large items like tallboys and couches are delivered by our own team or third party furniture movers, with a shipping cost from $65.  
Seven days a week, we despatch 2+ containers of furniture to destinations all over New Zealand, and to our island neighbours: Samoa, Fiji, Tonga, New Caledonia etc. We use our own channels, or third party shipping companies.

NZ Local Delivery

For Auckland Metro Area: At alert level 3 the delivery is contactless as required by the relevant government policies, which means we can only deliver items to your front door. Normally the stock is in our warehouse, but the earliest delivery date varies due to our workload and fleet arrangement - usually in a few days.
For Hamilton Area: if the shop is holding the stock, we can deliver asap. Otherwise, three days of the week -in our own trucks, we deliver furniture to Hamilton shop/vicinity, from Auckland.

For Christchurch Area: if the stock is on hand we can deliver asap. Otherwise, from our Auckland Warehouse, we can:
1. Use third-party shippers to send orders from Auckland, directly to the buyer. Or,
2. Join our regular (usually monthly, & free to you) container shipment from Auckland to our Christchurch Shop. From there we can organize South Island Delivery or Pick-up.

Special notes:

1. Normally the delivery is to your door only. Arrangements may be made to take items upstairs at our discretion, and at additional cost
2. Please understand, when a particular day has been selected for delivery of your items, we can only confirm the delivery day, and the rough time frame (e.g. Tuesday afternoon, or Sunday morning). We cannot book a specific time (i.e. 2 pm), due to factors outside our control -weather, traffic etc.                                          
Our delivery team will call the customer twice before delivery.                        
#1 -We call the evening before the selected day, to confirm delivery for the next day.    
#2 -We call about half-hour before our ETA at the customer's house. This saves you calling us to ascertain the ETA, and from needlessly waiting around all day at home. We guarantee we will call you prior to delivery, and will deliver on the pre-arranged day.
3. Same day delivery - at an additional cost, we can specially arrange same-day delivery, if required.        
Also we understand, some people urgently need a bed (or at least a mattress) to sleep on -that night. Even when we are very busy, we try our best to help customers with delivery the same day (sometimes late at night). However, urgent delivery does need to be confirmed, and may involve extra cost.
Pick-up
Customers are always welcome to pick up their purchases, and an appointment is essential!
Currently, most major furniture retailers' pickup policies are:                                                                   
    Most do not have same-day pickup;
    or if they do, they require one hour preparation time before pickup.                                                                       
ifurniture is always working hard to service our customers better.  Proudly having almost all stock in our own warehouses, we not only do 'Same Day Pickup', but also accept 'Pop in' pickups without booking. However, an appointment is highly recommended.
    Firstly, we have several warehouses, and we may need to collect items from several of them.
    Secondly, in peak time there may be many customers in the pickup queue, and we will obviously serve the ones with pick up appointments first.
    Thirdly, a small percentage of the items need to be collected from our local supplier first.
Hence we strongly recommend you make an appointment with us. Giving us 1, 2 or more days' notice makes all the difference. This way before your pick up date, our warehouse team will get all items ready for you, right at the warehouse entrance. So when you arrive, even if there is a queue, you will be serviced first. In a few minutes the items will be loaded into your vehicle, and you are free to go.
On the other hand, you are still welcome without an appointment, and our warehouse team will try their best to serve you as soon as possible. Please be patient if it is peak time, given that we will have to serve previously booked appointments first, and it can take significant time to collect items from our huge warehouses. The waiting time is up to 20 even 30 minutes in peak season
Our Auckland warehouses are located at:
Carbine Warehouse:  77 Carbine road, Mt Wellington. Open 10AM to 12:30PM  1PM to 4PM , 7 Days, except holidays.
Monahan Warehouse:  3 Monahan Road Mt Wellington. Open 10AM to 12:30PM  1PM to 4PM , 7 Days, except holidays. 

Sending through Courier/Shipping Company


If goods are sent out via couriers, it usually takes 1 to 3 working days, after the order is picked up from our warehouse.

If the goods are sent through freight companies, e.g. Mainfreight, they are very fast to most cities -maybe the next working day to Wellington. For other North Island areas it takes about 3 days to a week, and may be up to two weeks for small towns in the South Island. 

Customers are welcome to arrange a third party to pick up orders on their behalf
Pre-arrangement and confirmation are required before pick up. Whoever is picking up the order needs to have your invoice number, for confirmation with our staff.  

Please note: Although it seldom happens, we will not be responsible for delay in delivery caused by the shippers. For more information, please read our terms.
Shipping cost


We charge flat shipping rates for those areas, no matter how many items, how big.

$65(To Front Door Only), $85 (Standard Delivery) 
Hamilton metro area, Christchurch metro area, Auckland RED zone including:
Balmoral, Blockhouse Bay, Burswood, East Tamaki, Eastern Beach, Eden Terrace, Ellerslie, Epsom, Farm Cove, Favona, Glen Innes, New Lynn, New Windsor, Newmarket, Onehunga, One Tree Hill, Orakei, Oranga, Owairaka, Pakuranga, Pakuranga Heights, Panmure, Papatoetoe, Papatoetoe West, Parnell, Point England, Ponsonby, Pt Chevalier, Royal Oak, Sandringham, Te papapa, Three Kings, Waikowhai, Wai-o-Taki Bay, Waterview, Western Springs, Westfield, Westmere, Wiri, Glendowie, Grafton,  Green Bay, Greenlane, Grey Lynn, Half Moon Bay, Highland Park, Hillsborough, Homai, Kelson, Kingsland, Lynfield, Mangere, Mangere East, Manage Bridge, Meadowbank, Mellons Bay, Tamaki

$80(To Front Door Only), $105 (Standard Delivery) 
Auckland GREEN zone including:
Arch Hill, Avondale, Botany Downs, Clover Park, Cockle Bay, Dannemora, Donegal Park, Flat Bush, Manukau, Manurewa, Freemans Bay, Glen Eden, Northcote, Northcote Center, Shelly Park, Totara Heights, Weymouth, Goodwood Heights, Hauraki, Herne Bay, Hillcrest, Leabank, Buckland Beach, City, Clendon, Conifer Grove, North Habor, Oratia, Te Atatu South, Te Atatu Peninsula, Titirangi,  Wattle Downs, Western Heights, Glendene, Henderson, Lincoln, McLaren Park, Sunnyvale, Takanini, Takapuna


$100(To Front Door Only), $125 (Standard Delivery) 
Auckland YELLOW zone including:
Bayswater, Beach Haven, Belmont, Birkdale, Devonport, Unsworth Heights, Dury, Glenfield, Hobsonville, Massey,  Sunnynook, Albany,Browns Bay, Bombay, Campbells Bay, Castor Bay, Forrest Hill,Northcross, Opaheke, Pahurehure, Papakura, Pinehill, Ranui, Red Hill, Rothesay Bay, Torbay, Waiake, West Harbour,Glenvar, Greenhithe, Karaka Park, Long Bay, Mairangi Bay

To be calculated

Out of those areas, we use third party shipping companies. Because there is no trustable API available in NZ's shipping industry so we have to calculate detailed shipping cost by those factors:

-Where. Very detailed address pls.
-What. Product name.
-How many.

So once the order placed, we will work out the accurate shipping cost and update the order.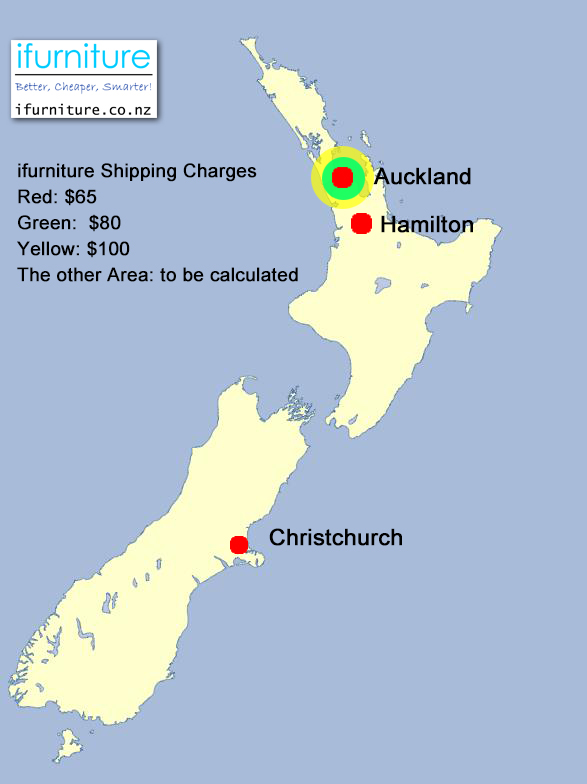 From $65

Auckland Area

Red

 From $80 

Auckland Area

Green

From $100 

Auckland Area

Yellow
To be calculated
 
Balmoral
Central
Arch Hill
Central
Albany
North
Pukekohe
South
Blockhouse Bay
Central
Avondale
Central
Bayswater
North
Pokeno
South
Burswood
East
Botany Downs
East
Beach Haven
North
Silverdale
North
East Tamaki
South
Bucklands Beach
East
Belmont
North
Whangaparoa 
North
Eastern Beach
East
City 
CBD
Birkdale
North
Gulf Harbour
North
Eden Terrace
Central
Clendon
South
Bombay
South
Orewa
North
Ellerslie
Central
Clover Park
South
Browns Bay
North
Whangarei
North
Epsom
Central
Cockle Bay
East
Campbells Bay
North
Pukekohe
Sounth
Farm Cove
East
Conifer Grove
S/East
Castor Bay
North
All Other Areas
 
Favona
South
Dannemora
South
Devonport
North
 
 
Glen Innes
Central
Donegal Park
South
Drury
South
 
 
Glendowie
Central
Flat Bush
South
Forrest Hill
North
 
 
Grafton
Central
Freemans Bay
Central 
Glenfield
North
 
 
Green Bay
West
Glen Eden
West
Glenvar
North
 
 
Greenlane
Central
Glendene
West
Greenhithe
North
 
 
Grey Lynn
Central
Goodwood Heights
South
Hobsonville
West
 
 
Half Moon Bay
East
Hauraki
North
Karaka Park
S/East
 
 
Highland Park
East
Henderson
West
Long Bay
North
 
 
Hillsborough
Central
Herne Bay
Central
Mairangi Bay
North
 
 
Kelston
West
Hillcrest
North
Massey
West
 
 
Kingsland
Central
Homai
South
Northcross
North
 
 
Lynfield
Central
Leabank
South
Opaheke
S/East
 
 
Mangere Bridge
South
Lincoln
West
Pahurehure
S/East
 
 
Mangere
South
Manukau
South
Papakura
S/East
 
 
Mangere East
South
Manurewa
South
Pinehill
North
 
 
Meadowbank
Central
McLaren Park
West
Ranui
West
 
 
Mellons Bay
East
North Harbour
North
Red Hill
S/East
 
 
New Lynn
West
Northcote
North
Rothesay Bay
North
 
 
New Windsor
Central
Northcote Centre
North
Sunnynook
North
 
 
Newmarket
Central
Oratia
West
Torbay
North
 
 
One Tree Hill
Central
Shelly Park
East
Unsworth Heights
North
 
 
Onehunga
Central
Sunnyvale
West
Waiake
North
 
 
Orakei
Central
Takanini
South
West Harbour
West
 
 
Oranga
Central
Takapuna
North
 
 
 
 
Owairaka
Central
Te Atatu Pen.
West
 
 
 
 
Pakuranga
East
Te Atatu South
West
 
 
 
 
Pakuranga Heights
East
Titirangi
West
 
 
 
 
Panmure
Central
Totara Heights
South
 
 
 
 
Papatoetoe
South
Wattle Downs
South
 
 
 
 
Papatoetoe West
South
Western Heights
West
 
 
 
 
Parnell
Central
Weymouth
South
 
 
 
 
Point England
Central
 
 
 
 
 
 
Ponsonby
Central 
 
 
 
 
 
 
Pt Chevalier
Central
 
 
 
 
 
 
Royal Oak
Central
 
 
 
 
 
 
Sandringham
Central
 
 
 
 
 
 
Tamaki
Central
 
 
 
 
 
 
Te papapa
Central
 
 
 
 
 
 
Three Kings
Central
 
 
 
 
 
 
Waikowhai
Central
 
 
 
 
 
 
Wai-o-Taki Bay
Central
 
 
 
 
 
 
Waterview
Central
 
 
 
 
 
 
Western Springs
Central
 
 
 
 
 
 
Westfield
Central
 
 
 
 
 
 
Westmere
Central
 
 
 
 
 
 
Wiri
South